PRE-ORDER: T-BIRD & THROTTLE vs THE MOON MEN (Collected Edition)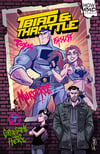 Get the entire story in this 250+ page trade paperback! Collects the first 4 issue story arc plus the #0 issue prologue. Signed.
NOTE: This is a pre-order. Books are scheduled to ship in August. Please place a separate order for IN-STOCK products, otherwise your order may be delayed.